Woman 'killed partner during 999 call'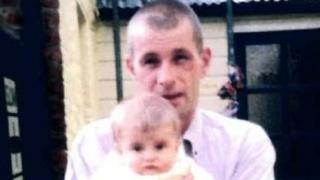 A woman fatally stabbed her partner during a 999 call to police, a court has heard.
Deborah Napier stabbed Jolyon Wray, 46, in the back with a 12.5cm (5in) steak knife at his Isle of Wight flat in East Hill Road, Ryde, on 13 June.
She told the 999 operator she did it because she was "fed up" of him hitting her, Winchester Crown Court heard.
Ms Napier, 53, of Amazon Close, Basingstoke, has admitted manslaughter but denies murder.
The pair were in a violent and destructive relationship "blighted by alcohol", the court heard.
'Hammer attack'
Ms Napier made the emergency call and the operator phoned her back when the call was suddenly terminated after two minutes.
"I stabbed him, he was beating me up... I had enough of him. I just got so fed up of him hitting me," Ms Napier said.
Prosecutor Charles Gabb said her attack on Mr Wray was not merely a "loss of control" but "completely extreme".
The jury was also told Ms Napier previously attacked Mr Wray with a hammer while he was sleeping.
He told his brother Luke she hit him three times with the tool causing a head injury.
Luke told the court his brother had refused to marry Ms Napier and wanted to end the relationship.
Forensic tests showed the couple, who had a history of alcohol problems, were both two-and-a-half times above the drink-drive limit at the time of the call.
Police found Mr Wray dead on a sofa in the lounge of the basement flat.
The trial continues.