Knives 'sold to children' at Southampton shops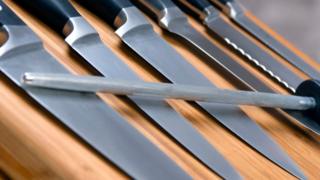 Six out of 10 shops in Southampton sold knives to children during test-purchase operations, police have revealed.
A large axe was sold to a 16-year-old at one shop, while another failed by selling a box of kitchen knives to a 16-year-old.
It is an offence under the Criminal Justice Act 1988 to sell knives to under 18 year olds.
The 10 tests were carried by police and city council trading standards teams.
They were part of Operation Sceptre - Hampshire Constabulary's response to tackling knife crime.
'Shocking and unacceptable'
Three of the stores that failed the tests also failed tests in June - when eight stores sold knives to under 18 year olds in the city.
Insp Mel Golding, of Hampshire Constabulary, said: "The number of businesses who failed this operation, again, is shocking and unacceptable.
"If the correct procedures are not practiced, then young people can easily obtain knives potentially putting their lives, or the lives of others at risk."
She said all staff at the shops that failed would be requested to attend an awareness course with a store supervisor.