HMP Winchester inmates 'locked in cells for 23 hours a day'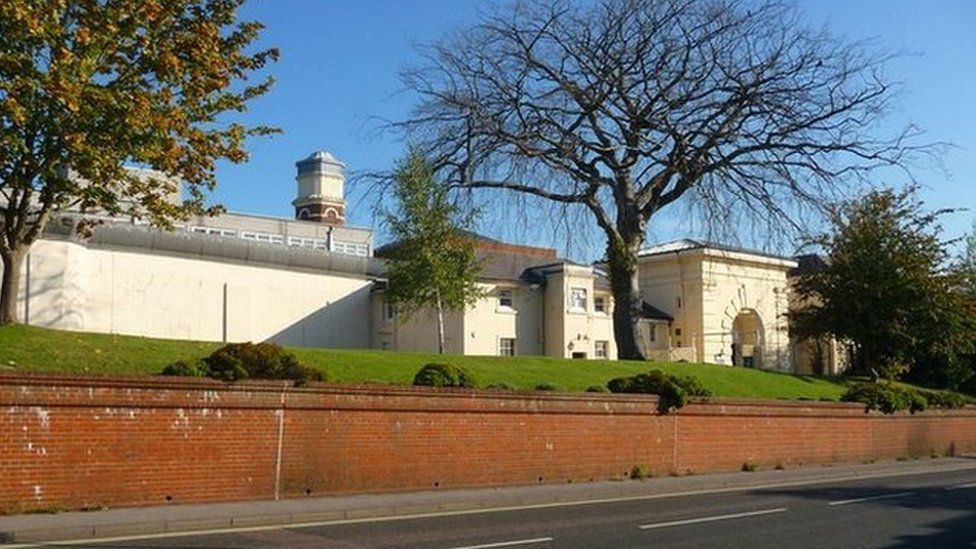 Some inmates at a prison in Hampshire are spending just 45 minutes a day out of their cells, a watchdog has said.
A restricted daily routine had been operating for many months in the Victorian part of HMP Winchester at the time of an inspection in July.
The prison said it will employ more staff with the inspector saying inmates should be out of cells 10 hours a day.
HMP Winchester has two parts - a traditional Victorian prison holding up to 561 Category B prisoners, and the smaller West Hill site with 129 Category C inmates.
The few prisoners in full-time work in the main part of the prison had about eight hours out of their cells, but part-time workers had about five hours and "a significant minority of prisoners" who were not involved in any activity had 45 minutes a day unlocked, inspectors found.
The report also said support for those at risk of self-harm was weak and five prisoners had taken their own lives since the last inspection in 2014.
However, it added new prisoners were treated reasonably well and there were good initiatives to try to combat violence.
Chief inspector of prisons Peter Clarke said: "The prison had a cohesive and decent management team and progress in staff culture was commendable.
"HMP Winchester continues to make progress - some of it very significant - notably in activity and resettlement.
"Some big challenges to improve safety remain and the limited access to time out of cell was undermining much that the prison could offer."
He said: "This will enable dedicated officer support for every prisoner as well as increasing staff supervision to support safety and to deliver purposeful regimes.
"The governor and her team will use the recommendations in this report to maintain and accelerate progress at Winchester over the coming months."
Related Internet Links
The BBC is not responsible for the content of external sites.