Bournemouth woman not guilty of 'demon' murder bid due to insanity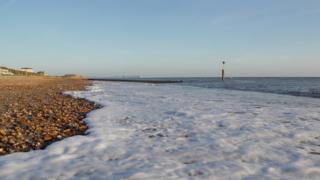 A woman who said she submerged a young boy in the sea to expel a demon from his body and resurrect her dead father has been found not guilty of attempted murder, by reason of insanity.
Claire Winslade held the child under the water as she went to scatter her father's ashes in Bournemouth, a prosecutor said.
Passers-by intervened to save the child at Southbourne beach on 9 January.
Winchester Crown Court adjourned the case for psychiatric reports.
Ms Winslade, 32, of Seabourne Road, Bournemouth, had denied the attempted murder charge.
Rob Welling, prosecuting, told the court the defendant had a history of mental illness which deteriorated following the death of her father in November 2014.
He said Ms Winslade told doctors that she had tried to drown the boy, who cannot be named for legal reasons, "because she believed he had a demon in him, [and] by doing so he would be returned alive with her father.
"At the beach she walked [the boy] into the sea up to knee or waist level then she held his head under the water.
"Had it not been for three passing joggers and a dog walker, [the boy] might have drowned that morning."
An eyewitness described that the boy said to Ms Winslade afterwards: "Why did you push me over?"
The case was adjourned until Friday for a "possible final outcome", the court said.