New Forest stream restoration plan refused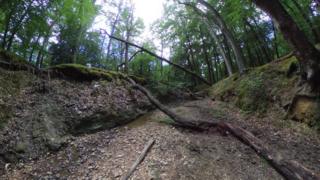 Controversial plans to restore New Forest wetlands have been refused by the national park authority.
The scheme at Latchmore Brook, near Hyde, aimed to recreate the meanders of a stream which were present before it was diverted by Victorian engineers.
Campaigners vehemently opposed the project, claiming the stream would be "irreparably damaged".
A divided New Forest National Park Authority planning committee refused the application by six votes to five.
During the meeting in Lyndhurst, members were told wildlife, including the rare southern damsel fly, was at risk if the stream was not repaired and restored.
But campaigners argued the 96,000 tonnes of gravel needed for the restoration would spell "ecological disaster" for the area.
The scheme, which received more than 340 objections, was recommended for approval by national park planners.
But the deputy chairman of the authority, Edward Heron, urged the Forestry Commission to withdraw its application and develop proposals where wider agreement could be reached.
The three parish councils for the areas affected by the scheme - Bramshaw, Godshill and Hyde - objected on environmental grounds.
The Environment Agency, Natural England and Historic England were among the organisations supporting the scheme.
The Forestry Commission said that since 1997 it had undertaken more than 140 wetland restorations in the New Forest to improve wildlife habitats.
Deputy surveyor Bruce Rothnie said the commission was "disappointed" by the outcome and thanked people for their support.
He said: "Many people have worked extremely hard to develop detailed and robust plans to maintain and restore a threatened area of the New Forest, which now risks falling into further decline.
"We remain committed to delivering our wetland restoration schemes for the long term quality and protection of the forest and we will now take time to consider our next steps."