Soldier 'seriously hurt' in Aldershot barracks stabbing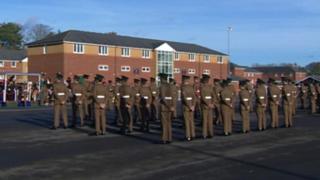 Two men have been arrested after a soldier was stabbed in an attack at an army barracks.
Police said the 26-year-old man was "seriously hurt" in the attack at Mons Barracks, Aldershot, at about 06:15 GMT on Saturday.
The suspects, a 22-year-old man and a 19-year-old man, both from Aldershot, were arrested on suspicion of attempted murder and have been bailed.
Detectives said the stabbing was not thought to be terrorist related.
They said they were investigating how the civilians came to be in the barracks, which is home to 1st Battalion Scots Guards.
Police confirmed there was no suspected link to the arrest of a soldier over the deaths of two teenage runners in Aldershot on Tuesday.
In a statement, an army spokesman said: "We can confirm that an incident took place on Saturday morning at Mons Barracks, Aldershot.
"A soldier was injured and treated in hospital. Hampshire Police are investigating the incident and it would be inappropriate to comment further at this stage."