Diver unravels mystery of Solent sea plane wreck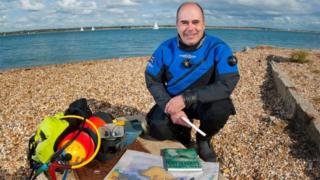 A scuba diver who spent years researching a sea plane wreck off the Hampshire coast believes he has finally identified the aircraft.
The wreck, off Calshot, was previously believed to be a Sunderland flying boat sunk in 1950.
But after researching other Sunderlands that sank in the area, John Greenwood, of Hythe, believes it to be a Canadian aircraft which sank in 1944.
He now hopes to locate the engine serial numbers to prove his theory.
Until two years ago it was thought the wreck, which lies upside down in The Solent with one wing buried, was that of PP118 which sank during a storm.
But after locating the family of an aircraftsman tasked with its salvage, Mr Greenwood discovered one engine was noted as having fallen off, while the wreck's four engines remained intact.
A third aircraft - G-AGKY - which sunk in the area in 1953 while under tow was also ruled out.
Mr Greenwood, who filmed the wreck with members of Calshot Sub-Aqua Club, now believes the plane is a Royal Canadian Air Force ML883, sunk during a storm in 1944.
He said records showing it had visited several military bases could indicate it was delivering Christmas mail.
"The task now is to locate that exposed engine as the other three are partly buried in silt.
"Once we do that, we should be able to find the serial numbers and that will help us positively identify, once and for all, which Sunderland Flying Boat it actually is."
Mr Greenwood has been appointed "wreck champion" by the British Sub-Aqua Club in recognition of his work, making him an ambassador for historical wrecks.
Chief Executive Mary Tetley said: "The work John and his colleagues at Calshot Sub-Aqua Club have done in researching the wreck is incredible and I'm sure they will continue, through their love of diving, caring for our underwater heritage."