DIY waste charges: Hampshire council 'faces legal battle'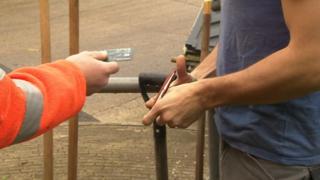 Hampshire County Council says it could face a legal fight over its charges for DIY waste at recycling centres.
Fees came in on 1 October for materials classed as "DIY construction waste", including soil and plasterboard.
Councillor Rob Humby, who is in charge of environmental issues, said: "It could be a legal battle."
The Department for Communities and Local Government (DCLG) said DIY waste generated by householders should be disposed of without a charge.
Hampshire County Council said the charges were needed to cover the cost of disposing the waste.
Mr Humby said: "We think it is construction waste as set out in the policy.
"It certainly could end up in a legal battle. We hope we don't get there, and come to a resolution."
The authority said it was seeking "clarity" from the DCLG on the interpretation of the policy.
It said plans to bring in reduced opening times in January had been postponed while it seeks to clarify its legal position over the charges.