Councillors agree closure of New Forest visitor information centre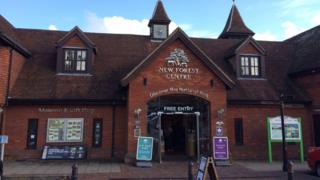 Plans to close the New Forest visitor information centre (VIC) have been agreed by councillors.
The centre in Lyndhurst provides tourist information and accommodation booking services.
But New Forest District Council's cabinet heard visitors have been increasingly using online services to plan stays.
The National Park Authority (NPA) said it was in talks over the provision of information services.
The council's review of tourism services included a plan to cut the VIC as well as the authority's destination marketing role with five posts being made redundant.
A petition set up opposing the plans has received more than 600 signatures.
The New Forest Centre in Lyndhurst currently houses the VIC along with a museum managed by the Ninth Centenary Trust which is supported by the NPA.
NPA Chairman Oliver Crosthwaite-Eyre said it was in "ongoing discussions" with the charity and the council over tourist information provision.
He said: "It's important that visitors and local residents can access the information they need to enjoy the National Park in sustainable ways and we believe the New Forest Centre should continue to play a key role in this, including through face-to-face conversation if possible."
The council's cabinet agreed the closure but a final decision is due to be made by the full council next month.