Pedestrian, 89, dies in New Milton car crash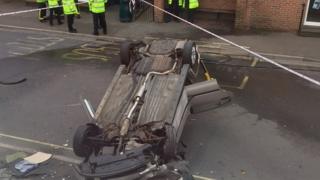 An 89-year-old woman has died after she was struck by a car in Hampshire.
The crash, involving a Rover which rolled over onto its roof, happened in Whitefield Road, New Milton, shortly before 14:00 GMT on Tuesday.
Police said the woman, from New Milton, was taken to hospital but died of her injuries shortly after.
The driver of the car, a 79-year-old woman from Lymington, suffered serious injuries and remains in hospital, police said.