Astronaut Tim Peake receives University of Portsmouth honorary degree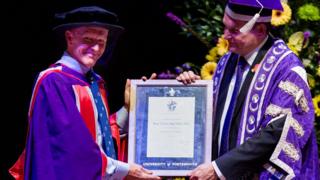 Astronaut Tim Peake has been presented with an honorary degree by the University of Portsmouth.
Major Peake, who spent six months on the International Space Station earlier this year, described his honorary doctorate of science as a huge honour.
The astronaut studied flight dynamics and evaluation at the same university, graduating in 2006.
He received the degree on Wednesday evening ahead of a talk on his mission to the International Space Station.
Major Peake added: "It is made even more special as I received my first degree from the University of Portsmouth 10 years ago.
"Unfortunately that 10 years isn't an indication of how youthful I am but indicates that I attained a degree later in life at the grand old age of 34, showing you can still achieve your goals later on in life."
The honorary degree is the highest honour that can be given to a former student.
The event followed a UK Space Agency Schools Conference, inspired by his mission, held earlier at the university.
The conference celebrated the work of more than one million UK school students including a mass schools rocket seeds experiment led by Major Peake.
Major Peake returned to Earth in June after a six-month stay aboard the ISS.
During his mission, he completed the first spacewalk by a UK astronaut and ran an equivalent of the London Marathon.