Disgraced former Hampshire coach firm boss disqualified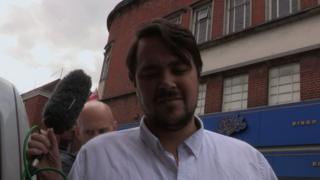 A former coach firm boss who owes almost £130,000 to customers and contractors has been disqualified from holding or obtaining a coach licence for two years.
A BBC investigation recently revealed Rikki Lee Powell has 59 unpaid county court judgements against him and his companies since 2010.
Some of his clients said they had booked coaches which never turned up.
The 30-year-old was a director of Tempo Travel, based in Marchwood, Hampshire.
He failed to turn up for his disciplinary hearing at the Office of the Traffic Commissioner in Bristol, where he was also disqualified from acting as a transport manager for two years by the industry regulator.
Deputy Traffic Commissioner for the West of England, Fiona Harrington, said Mr Powell had failed in practice to "operate in the manner expected of a capable, compliant and trustworthy operator".
The BBC's Inside Out programme previously spoke to 13 clients and five companies who said they were owed money by Mr Powell, also known as Richard.
Some said they were promised refunds which never arrived.
Complaints against Mr Powell, who lives in Salisbury, were also investigated by the BBC's Don't Get Done Get Dom TV programme in 2015 and by You and Yours on Radio 4 in 2012.
His previous firm Southern Coaches Ltd was dissolved in July.
Mr Powell resigned as a director of Tempo Coaches in September but is still named as a director of First National Coaches UK Ltd.