Matthew Hamlen refused Georgina Edmonds murder appeal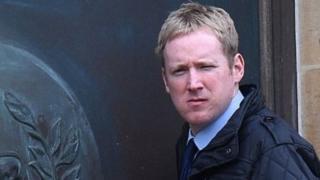 A man convicted of murdering a grandmother with a rolling pin has had his application for appeal refused.
Matthew Hamlen was found guilty in February of the murder of 77-year-old Georgina Edmonds in 2008.
She was found beaten to death in her cottage in Brambridge near Eastleigh.
The 37-year-old was acquitted four years earlier but convicted after new DNA evidence was found. The case is one of just a handful of double jeopardy murder cases tried in the UK.
Hamlen appeared via video link at the Royal Courts of Justice, where his defence team argued his conviction was unsafe.
'Waste of time'
William Mousley QC said the jury at the second trial should not have been have been told about the original case and its outcome.
He said "Such a pre-emptive direction was not only unnecessary but also had an effect on the safety of the conviction."
He argued it gave "undue prominence" to the new evidence.
Prosecutor Michael Bowes QC said: "The trial would not have made sense unless the jury knew it was a retrial."
He added an "unexplained gap" in the timeline of the case "would have been quite artificial".
Rejecting the application for leave to appeal, Judge Lord Justice Fulford agreed telling the jury of the earlier trial was "wholly correct".
He said: "By addressing this at the outset, the judge reduced the impact this information would have had if it had suddenly emerged during the course of the trial."
If the jury had not been told of the first trial, "a significant mystery would undoubtedly have been created that would have needed to be addressed", he added.
Following refusal of the application, Hamlen was heard to say "well that was a waste of time".
---
Analysis by Emma Vardy - BBC South home affairs correspondent
It may be the end of the road for Matthew Hamlen, but his conviction earlier this year ended a long wait for justice for Georgina Edmonds' family.
He can only seek further leave to appeal on the grounds of fresh evidence, should it ever emerge.
He has shown little emotion during hearings, though he always denied the brutal murder despite strong DNA evidence.
A number of Hamlen's family came to watch the hearing, including his wife - the mother of his young child - who held her head in her hands as the decision was announced.
The thirty year sentence is a sentence for them too.
---