Bridge death: Care worker 'tried several doctors'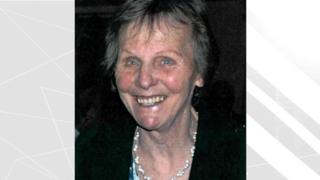 A care worker has described how she tried to find a doctor after a crisis call from the family of a woman who was later found dead.
Retired nurse Marion Munns, 74, died in November last year after suffering a severe mental health breakdown.
Southern Health worker Emma Bullbrooke told an inquest she tried several doctors and two mental health units before someone called back.
By that time, Mrs Munns had fled the family home and gone missing.
She was later found dead on the M27 after falling from a motorway bridge.
The coroner was told that Mrs Munns' family had called the care worker at 16:20 on 12 November during chaotic scenes at their home.
Mrs Munns, from Southampton, had become agitated and there were concerns she might become physically aggressive.
'No support'
Miss Bullbrooke said she was on her own in the office, which was closing at 17:00, the consultant had gone out on a call and there were no other doctors.
She said: "I was on my own with no support in the office and going into a situation where there might be physical aggression was not advisable."
She said the doctor that called her back said he would need to take advice before contacting the family directly.
Coroner Grahame Short said: "He didn't help you too much, did he?"
The doctor eventually offered to see Mrs Munns if she could be taken to A&E but by that time she had fled and run into a housing estate where the police were searching for her.
The inquest at Winchester previously heard there was no dedicated out-of-hours service for older mental health patients because the NHS would not fund one but that had since changed.
The inquest continues.