New Forest information centre to close under tourism review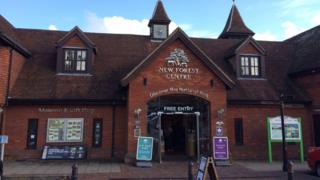 The visitor information centre (VIC) for the New Forest National Park is set to close, following a council review of tourism services.
The walk-in centre in Lyndhurst provides tourist information and accommodation booking services.
New Forest District Council said visitors increasingly used social media and online services to plan stays.
Critics of the plan point to the centre still being used by more than 130,000 visitors each year.
The Conservative-run council's review of tourism services said the VIC in Lyndhurst should close before the start of the 2017 tourist season.
The report states the number of nights accommodation booked through the VIC had fallen by 4.5 times in four years and footfall had fallen by 50,000.
"Changes in usage levels... are largely related to the growth in the availability of digital technology as an alternative way to obtain information for visitors to the New Forest," it said.
'Good local knowledge'
As well as the closure of the centre, destination marketing would be taken over by the New Forest Tourism Association business group.
"The best way forward is for the tourism business sector to take responsibility for determining the way in which the New Forest is marketed and promoted as a destination to visitors for the benefit of business," it said.
Five posts at the VIC and the council's tourism manager would be made redundant under the plan which the council said could save £160,000 a year.
Liberal Democrat opposition councillor David Harrison said the VIC was "part of the tourism package".
"Its true people are increasingly using mobiles and social media, but most people appreciate a New Forest welcome - speaking to local people with good local knowledge.
"We should be investing in this extremely popular and well-used part of the tourist infrastructure."
He said the New Forest Museum and shop, housed in the same building, would be hit with lower footfall if the VIC closed.
The review is due to be discussed by a council committee on Thursday.