Farnborough Village Hotel evacuated after chlorine leak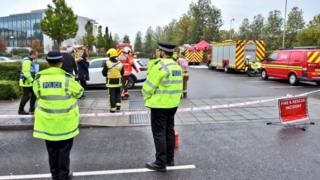 A hotel in Hampshire had to be evacuated after a leak of hazardous swimming pool chemicals.
The chlorine leak at the Village Hotel in Farnborough was discovered when a member of staff found a gas alarm sounding in the pool plant room shortly after 06:00 BST.
More than 120 guests had to leave the building and a cordon was put in place.
Emergency crews wearing air-tight suits discovered a small release of chlorine from a pipe which was then isolated.
The room was ventilated and the cordon was lifted by 09:00 BST.