Southern Health criticised for response over bridge death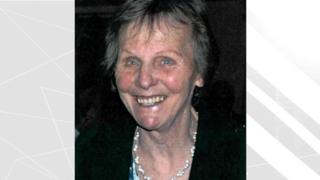 The family of a woman who died after falling from a motorway bridge were told health workers could not respond to a crisis call as the office was shutting, an inquest has heard.
Retired nurse Marion Munns, 74, died in November after suffering a severe mental health breakdown.
Her daughter told the inquest the Southern Health carer told her to "do the best I could" when she contacted her.
Mrs Munns was found dead on the M27.
She had been admitted to the Western Community Hospital in Southampton for three months in 2014 for depression and had returned home after showing improvement, but her condition deteriorated again the following year.
'Uncontrollable state'
A statement by Mrs Munns's husband John was read to the inquest in Winchester detailing her "erratic" behaviour, including talking to birds, obsessively drinking water and shouting out numbers.
Her daughter, Kim Vella, 57, told the inquest that on the afternoon of 12 November she was concerned about her mother's behaviour and had contacted her Southern Health NHS Foundation Trust staff carer Emma Bulbrooke.
She said: "She was of the opinion that they were due to go out of hours and that it was best for me to make my way to the house and do the best I could. If I didn't like what I saw I was to call 999 but I wasn't told what to ask for. They were closing at 5 o'clock."
When she went to the house she found her mother in an "uncontrollable state" and had to call police.
Mrs Munns later fled through an upstairs window, prompting a frantic search. Her body was found on a carriageway of the M27.
Pathologist Dr Adnan Al-Badri told the inquest that toxicology tests showed no trace of the anti-psychotic drug risperidone, which she had been prescribed suggesting that she had not taken it
The inquest continues.