Wightlink Raiders abandon season after Ryde Arena ice rink closure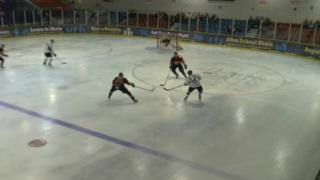 An ice hockey team has abandoned its season following the closure of the Isle of Wight's only ice rink.
The Wightlink Raiders blamed a "lack of ice time" since Ryde Arena shut earlier this month when its owners said it was not financially viable.
Team members had taken part in protests to highlight the rink's importance to the local community.
A statement from the Raiders said the team had been "robbed" of what could have been its best season.
Following the closure of Ryde Arena, the team had initially played home matches at Planet Ice in Gosport, Hampshire - the nearest rink on the mainland.
'Cannot survive financially'
The community group that rescued the venue 18 months ago admitted it owes about £200,000 in rent arrears and had been trying to negotiate a lower rent following storm damage to the building in November.
The site owner AEW UK terminated its lease and sent in bailiffs on 6 October,.
In its statement, the Raiders, the island's only ice hockey club, said the players were "devastated" at the situation.
"We have been forced to make this sad decision as we cannot find enough ice time to continue functioning, and without games we cannot survive financially."
'Sad day'
It said it the club "will not give up" efforts to restore ice hockey and skating to the island.
The team has played four games in this season's National Ice Hockey League Southern Division One.
The English Ice Hockey Association (EIHA) said it was a "sad day" for the sport.
Director Paul Hayes said: "The EIHA will continue to support its members and hope that in the future a successful outcome can be achieved and hockey return to the island."