Bed-blocking help 'not taken up' by Hampshire NHS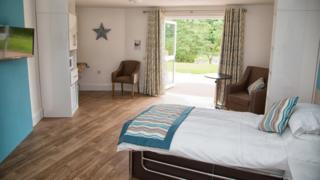 The NHS has not taken up a care centre's offer to help ease so-called bed-blocking in Hampshire hospitals, a disability charity has said.
The Enham Trust has 10 beds at its Cedar Park facility in Andover at £65 a day - lower than the £400 cost to keep patients in acute hospitals.
The charity said it was "impossible to convey the frustration" at the low take-up.
An NHS spokesman said it was "exploring the opportunity" of using the centre.
Bed-blocking occurs when patients are deemed medically well enough to be released from hospital, but something else - usually hold-ups in getting a home care package or nursing home placement - delays their discharge, meaning their beds are unavailable to others.
It is estimated to cost the NHS about £820m a year.
'Shockingly low'
In July the Enham Trust opened its centre with 10 apartments specially equipped to provide respite and long-term, non-medical care.
It has been in negotiations with health chiefs in Basingstoke and Winchester to make the beds available for NHS patients.
Peta Wilkinson, the charity's chief executive, said it had had five referrals from private hospitals in the last three months but not a single bed had been taken by the NHS.
She described the take-up as "shockingly low".
Based on the charity charging from £65 a day for its facilities, it calculated the NHS could have saved about £300,000 in three months.
A joint statement from Hampshire Hospitals NHS Foundation Trust, NHS North Hampshire CCG and NHS West Hampshire CCG said: "Staff have only recently been made aware of the facilities provided by Enham Trust and as such, are investigating using their services, subject to any necessary Care Quality Commission checks and quality assurance."
It added the £65 a day figure did not include meals and was not funded by the NHS but through social care.
"To support people with additional care needs, we would be considering a wider care and rehabilitation package, and Enham have quoted that at £1,100 for six nights," it added.