Southampton zebra sculptures charity auction raises £87k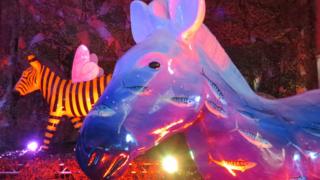 Life-sized zebra sculptures from an art trail in Southampton have sold for £87,550 at a charity auction.
The decorated sculptures were placed around the city though the summer by Marwell Wildlife to raise awareness of the endangered Grevy species.
The sale of 48 zebras included one which was stolen and later found in a garden in Shirley.
The trail was also marred by vandalism and the theft of another sculpture which was found in a river.
The highest bid was for Snappy by artist Michelle Heron, a the shark-themed zebra that sold for £4,000.
The trail also featured 103 smaller sculptures, designed and decorated by local school children.
The miniature zebras are being auctioned online until 25 October.
Money raised will fund Grevy's zebra conservation efforts in Africa.
A similar sculpture trail and auction in 2013 involving 36 rhinos raised £124,700.