Car park demolition costs Winchester council £800k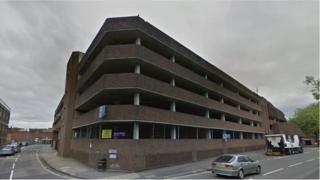 Demolition work costing £800,000 has begun on a car park which has been derelict since the collapse of a £150m regeneration scheme in Winchester.
Friarsgate car park closed last year amid safety fears and had been due to be knocked down to make way for the 2.3-hectare Silver Hill development.
The project collapsed in February and the city council has now hired demolition firm Armac to take down part of the deteriorating building.
Work is due to finish by March.
Winchester City Council's estates councillor Steve Miller said: "The condition of the car park continues to deteriorate and there is the risk that parts of the structure could fall on passers-by, causing injury."
At the end of the work, the site will provide 60 car parking spaces.
The Silver Hill scheme, which had been due to include 200 homes, shops, public spaces and a new bus station, was scrapped in February after years of legal wrangling.
Last year the High Court ruled the council had acted unlawfully by allowing the developer to revise the plans without putting the scheme back out to commercial tender.
The ruling led to the resignation of Conservative council leader Robert Humby.