Southsea 'homophobic attack' pair injured outside pub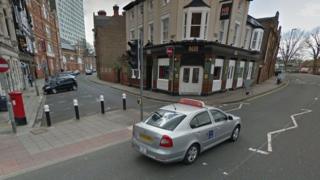 A man and a woman have been injured in an apparent homophobic attack.
The pair were assaulted outside gay bar Hampshire Boulevard in Southsea by three white men in their early 20s who threw food and shouted "homophobic" abuse.
The man, 22, received a cut lip and the woman, 28, suffered a fractured left eye socket in the attack.
The attack occurred in St Pauls Road between 02:45 and 03:15 BST on Saturday.