Protesters fight to reopen Ryde Arena ice rink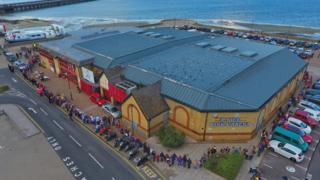 Protesters have formed a human chain around the Isle of Wight's only ice rink as part of a campaign to save it.
The community group that rescued Ryde Arena 18 months ago has admitted it owes about £200,000 in rent arrears.
It had been trying to negotiate a lower rent following storm damage to the building in November.
The site owner AEW UK, which sent in bailiffs last Thursday, said the rink was not financially viable and the lease had been terminated.
Roof ripped off
Ryde Arena Ltd took over the loss-making rink in April 2015 following a campaign that raised thousands of pounds in donations.
It signed a 35-year lease and agreed to pay an annual rent of £130,000 plus VAT to AEW UK, which employs Bank of New York Mellon to regulate its investment.
The Ryde Arena group's chairman Ian Jenkins said the group had so far paid about £20,000.
In November part of the seafront building's roof was ripped off in a storm.
Mr Jenkins said AEW UK had repaired the roof but failed to refurbish part of the water-damaged interior, costing his firm more than £100,000 in lost income from the bar, cafe and offices.
He said AEW UK had received insurance pay-outs in lieu of rent and had breached a lease condition to maintain the building.
But Rachel McIsaac, AEW UK's head of asset management, said: "There is no lease in place any more... how can a non-existent lease contain obligations?
"In terms of the insurance we received £12,000 for loss of rent - hardly making a dent in the £200,000-plus owing to us."
The arena freeholder, Isle of Wight Council, said a 15-year lease condition that the site should contain an ice rink had expired in February.