Stab-accused girl 'planned massacre' at Hampshire school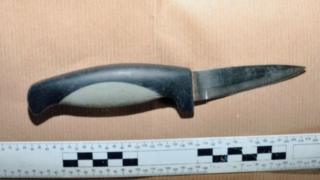 A girl who stabbed her best friend in the chest had drawn up plans to carry out a school shooting, a court has heard.
The teenager, who cannot be named due to her age, said her plan to go on a gun rampage at her school had been influenced by infamous mass shootings.
She told jurors she had a "kill list" of potential victims in a journal, but it was "not a serious idea".
The 15-year-old denies attempted murder.
Giving evidence at Winchester Crown Court, the defendant said she'd researched the Columbine High School and Anders Breivik massacres to understand the killers' motives.
'Co-ed butcher'
She said she did not wish to justify the massacres, but wanted to gain "more insight into their whole case".
The defendant said she was also influenced to plan the murder of her mother and brother by the case of serial killer Edmund Kemper.
Kemper, known as the "Co-ed butcher", killed six women as well as members of his family in the 1960s and 70s.
The girl told the court: "I do not know the motive behind it, they [the mother and brother] were the closest in my life, I felt like if they were gone then nothing would be able to hurt me any more."
The girl, aged 14 at the time of the attack, is accused of luring her friend to a quiet part of the school grounds where she stabbed her with a kitchen knife, causing a minor chest wound.
The jury was shown the knife that the girl brought to school with the intention of hurting her friend but not killing her, she said.
The court has already been told she thought her friend had set up fake social media accounts in her name, which the friend denies.
Jurors also previously heard the defendant based GCSE coursework on murderers Ted Bundy and Richard Ramirez, and turned up to school on the day of the attack with her mouth cut to resemble the Joker from the Batman film, The Dark Knight.
The defendant, who is now aged 15, denies charges of attempted murder and wounding with intent.
She has pleaded guilty to unlawful wounding and possession of a bladed article on school premises.
The trial continues.