New UK pumpkin record for brothers Ian and Stuart Paton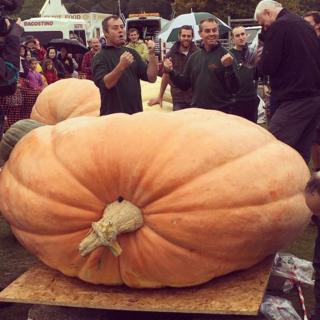 A new record for the UK's heaviest pumpkin grown indoors has been set by two brothers.
Stuart and Ian Paton broke their existing record with the 160.9st (1,021kg) vegetable when it was weighed at the weekend's annual pumpkin festival in Netley near Southampton.
Ian Paton was "quite happy" with the monster, grown under glass at their nursery near Lymington, Hampshire.
Their previous record of 135st (857kg) was set in 2014.
'Gobsmacked'
The twin brothers, who grew their first pumpkin at the age of 11, had posted updates on social media as the pumpkin has grown in their nursery glasshouse over the last six months.
Ian Paton said the pumpkins were fed and watered with 50 gallons (225l) of water each morning and afternoon, and increased in size up to 57lbs each day during their fastest growth period.
"People are gobsmacked when they see it - jaws hit the floor and it's quite interesting when we take it up the motorway on the truck," he said.
He said they were planning a few "tweaks" to target the world record, recorded by the Great Pumpkin Commonwealth, which stands at 2,624 lbs.
"If anyone can beat it, we can," he said.
Also at the weekend festival, Essex grower Matthew Oliver claimed the UK record for the largest pumpkin grown outdoors, which was cultivated from a seed costing £1,250.
Mr Oliver said he was "over the moon" after his pumpkin weighed-in at 95st (605kg).