Solent devolution and mayor plans backed by consultation respondents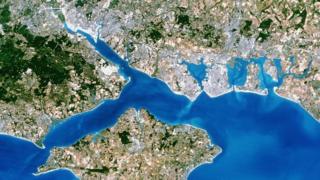 A council-run consultation has showed 58% of respondents support the idea of an elected major for the Solent region.
The Solent Deal proposes creating a combined authority above the unitary councils of Southampton, Portsmouth and the Isle of Wight councils.
More than 70% who took part in the consultation backed devolving economy and transport infrastructure funding.
The 10-week consultation, which cost £9,600, received 2,531 responses, with 1,000 people attending public events.
Councillors at Southampton, Portsmouth and Isle of Wight have already approved draft plans to create a combined Solent authority that would see them leave the current system of government funding in exchange for keeping business rates of about £210m a year and securing £900m from government to spend on infrastructure over 30 years.
Under the plan, each council would continue as a separate entity and retain its existing powers but they would be equal members on a board led by an elected mayor.
'Nothing in common'
Portsmouth City Council leader Donna Jones said it was "fantastic to know people back the principles".
She has previously admitted the response to the consultation was "a relatively low number" but said it compared favourably with similar consultations elsewhere.
Simon Letts, Southampton City Council's leader, said: "The response gives us a clear sense that the people of the Solent support our aspirations to take powers and funding from the government in London and use them locally to make life better for those who live here."
Among the published comments, an Isle of Wight resident wrote: "The Island has nothing in common with the two cities." Another respondent wrote: "It will be a disaster - Southampton and Portsmouth residents view each other as enemies."
The plans will now go for approval from each council before the end of October.
The results of another consultation carried out by Hampshire County Council, which proposes a "super council" for the county, have yet to be released.