Isle of Wight gluten-free NHS cuts plan 'concerning'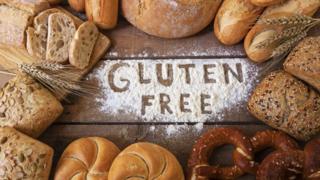 Plans to cut NHS funding for gluten-free foods for patients on the Isle of Wight are "extremely concerning", a coeliac disease charity has said.
The island's clinical commissioning group (CCG) said it is spending about £226,000 a year on gluten-free foods.
It is running a public consultation over plans to stop the service from April.
Coeliac UK said gluten-free foods were more expensive and not readily available.
Isle of Wight CCG said it had been providing the service for 30 years and when it started gluten-free foods were not available in supermarkets.
It said it was reviewing the service due to a "limited budget" and "as part of prioritising healthcare spending to reflect the current needs of the population".
'Patchy provision'
Coeliac UK said: "We are extremely concerned by the proposal and will be submitting a formal response to the consultation."
It added patients would be left without support if the service was cut and may not stick to a gluten-free diet which could lead to long-term health problems such as osteoporosis or infertility, and could end up costing the NHS "a lot more".
Sarah Sleet, from the charity, said: "The expansion of 'free from' aisles in large supermarkets masks the reality of very patchy provision.
"Small stores and budget supermarkets have little, if any, gluten-free staples.
"Additionally, high prices make such products unaffordable for some."
However, the CCG said it was more expensive for the NHS to supply gluten-free foods to patients than it was for people to buy it themselves because of the prescription process.
The consultation runs until 21 October.
Coeliac disease - which has no cure - is an autoimmune condition caused by a reaction to gluten, a protein found in wheat, barley and rye.