Memorial to fallen Hampshire and Isle of Wight police unveiled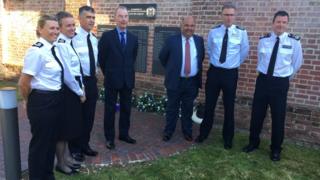 A memorial wall listing police officers and staff who have died in the line of duty has been unveiled in Hampshire.
The wall, at Hampshire Constabulary Training Headquarters in Netley, bears the names of people who died since force records began in 1832.
A ceremony for family and friends was held at the facility.
The event was attended by all living former chief constables and the daughter of former Hampshire chief constable, Sir John Hoddinott.
The memorial, which bears 61 names of people from Hampshire and Isle of Wight, was the work of Hampshire Police Federation, which was supported by the force and the current and previous police and crime commissioners.
John Apter, chairman of Hampshire Police Federation, said: "It was following the tragic death of our colleague PC Steve Rawson that I realised we had no physical memorial to fallen officers.
"I felt strongly that this wrong should be put right and there must be a place where our colleagues would be remembered. We needed something as a mark of these brave officers who have died in the line of duty."
PC Rawson died when his motorbike was hit by a car in Southampton in 2013.
Chief Constable Olivia Pinkney said: "We are forever indebted to our colleagues who put their lives on the line in the course of duty. They have paid the ultimate sacrifice and this memorial is a fitting tribute to their memory."
Police and Crime Commissioner Michael Lane said: "Today, families and colleagues will have a fitting tribute to remember them and inspire us."