Portsmouth tower block evacuated after fire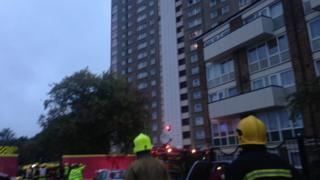 A fire broke out at a high-rise block of flats in the early hours, resulting in residents being evacuated.
About 60 firefighters tackled the blaze at Handsworth House in Quinton Close shortly before 04:00 BST after smoke was reported on the 13th floor.
The top five floors of the 17-storey building were evacuated as crews spent three hours tackling the flames.
Three firefighters were treated for heat exhaustion and 30 residents were assessed for smoke inhalation problems.
Fire service incident commander Steve Ash said his crews discovered a "very severe fire" in a 13th floor flat.
He said two teams of firefighters battled intense heat to reach the seat of the fire.
"It's like a blow-torch coming out of the door that they're trying to force their way through," he said.
The three firefighters who suffered heat exhaustion have been released from hospital.
More updates on this and other local stories.
Residents who were led to safety have now been allowed back into their homes.
The service said no one was in the flat where the fire broke out and the cause was still being investigated.