Winchester prison 'likely knew' suicide inmate had noose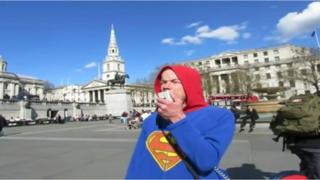 It was likely prison staff knew an inmate on suicide watch had prepared a noose the night before he was found hanged in his cell, a jury has concluded.
New Fathers 4 Justice campaigner Haydn Burton was arrested in May 2015 over allegations of assault.
He was found unconscious at Winchester Prison in July 2015 and later died.
An inquest jury said it was "more likely than not" prison staff had been informed the inmate had a noose.
It criticised the care offered to him and concluded there were missed opportunities to assess or reassess Mr Burton's risk of self-harm or suicide.
The Prison Service said it had taken action following an investigation.
'Failed to review care'
The jury heard Mr Burton was known to have mental health issues and had been sectioned several times.
Winchester Coroner's Court heard poor communication between officers and managers, and between officers and healthcare teams, contributed to his death.
Jurors concluded prison staff failed to review his care once he was deemed to be at risk and compliance with national policy could have changed the chain of events.
Coroner Grahame Short said 2015 had not been a good year for Winchester Prison - referring to four deaths at the facility in the space of two months.
'Tragic'
He said he would write to the Ministry of Justice with recommendations for improvement.
After the hearing, a prisons spokesman said: "This is a tragic case and our sympathies are with Haydn Burton's friends and family.
"We have already taken action and accepted all the recommendations following the PPO investigation. We will now carefully consider the inquest findings to help ensure such incidents are not repeated."
Mr Burton was well known in Winchester as a New Fathers 4 Justice campaigner and would often be seen wearing a Superman costume with a placard and a hailer.