Portsmouth Athletics Club anger over floodlight ban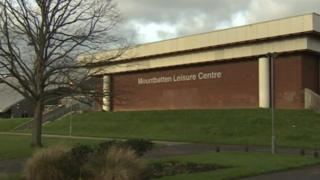 An athletics club has claimed it is facing collapse because of a ban on the use of floodlights at its training ground.
Portsmouth's Mountbatten Centre lights have been switched off since a 34-year-old man was electrocuted at an adjacent football pitch in January.
Portsmouth Athletics Club chairman Phil Budd said the council and operators were "letting down grassroots sport".
The council said it was working on a "long term solution".
Albert Xhediku died in hospital after was electrocuted at the artificial outdoor football pitch on 17 January.
Mr Budd said the club, which includes four Paralympians, has been "atomised" with its 500 members having to use sports facilities and grassed areas across the city.
"We've had no communications about why the floodlights were switched off, or why they can't be switched back on.
"If they can't be switched back on - presumably its a health and safety issue - what danger have our athletes been under up until that point?," he added.
The centre is managed by Parkwood Community Leisure on behalf of Portsmouth City Council.
A joint statement said: "We are working together on a design for the new floodlighting for the running and cycling track and we hope to be able to share a schedule for these works with stakeholders before the end of next month.
"We are working together to make sure that the best long term solution is found and that public money is well spent."