Fire 'in noisy generator' at new Romsey retirement flats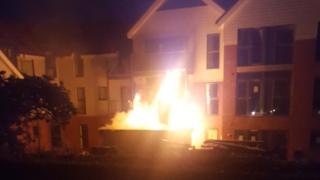 Fire damaged a new block of flats which had been the focus of complaints about noisy generators.
Crews were called to the retirement apartments on Duttons Road, Romsey, shortly after 19:30 BST on Monday.
The blaze started in a generator outside the property, the fire service said.
Neighbours previously complained they were being disturbed by generators brought in to provide power to residents during ongoing building work.
Following the complaints, the generators were housed inside wooden boxes. An investigation into the cause is ongoing.
Ian Maxwell of MEMS, the company that supplied the generators, said: "There are better ways to reduce noise - a wooden box is not the way to do it."
Developer Renaissance Retirement said the "noise-reducing" material was purpose-built, fireproof and had been supplied by qualified noise consultants.
A spokesman said there was no reason to suggest the boxes were a problem.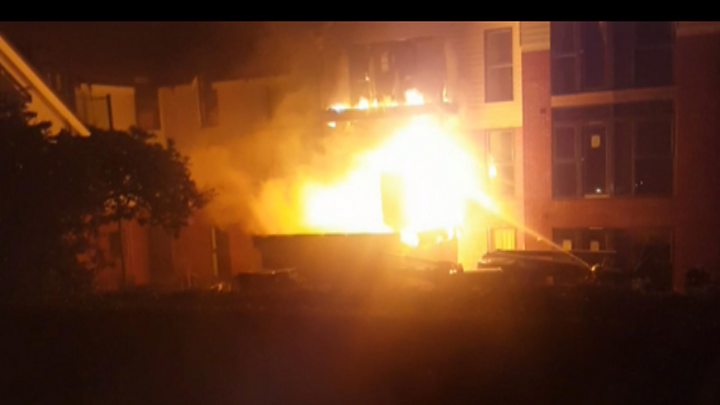 Neighbour Hannah Powell said: "I thought the generator was going to blow. I was cowering in the back bedroom with my son. I was worried it was going to explode and the windows were going to blow."
She said she saw elderly residents being evacuated from their new homes.
The fire damaged part of the balconies and fascias of three flats, Hampshire Fire Service said.
No residents were injured, but 21 people were found alternative accommodation following the fire.
Renaissance Retirement said it hoped to return residents to the property by Thursday.
Last week, the firm was the subject of a noise abatement notice over the use of the generators. It said it was working to resolve the noise issue as quickly as possible.
A spokesman added the health and safety of owners and residents was its "main consideration".