Gosport ferry firm defends 'not for the idle' job advert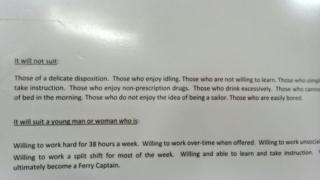 A ferry firm has defended a job advert warning "idlers", heavy drinkers and the thin-skinned not to apply.
The flyer, seeking a "yard mate or pontoon boy" for the Gosport ferry in Hampshire, says applicants must be willing to "remove rubbish and vomit and be ready to be roundly criticised".
An employment law expert said the ad was "ill-advised", and could breach equality regulations.
But manager Jeremy Clarke said 20 people had applied so far.
He said there had been no complaints about the poster, which warned people of a "delicate disposition" or those who are "easily bored" not to apply.
Mr Clarke said: "It's a good job for a kid. If he works hard he could be a captain in five to 10 years.
"It's a small company. If someone drops out or goes off without telling anyone, we have to bring someone in to cover."
Simon Rhodes, head of employment law at Trethowens solicitors, said the advert's stipulated 16 to 22 age range could be a breach of the Equality Act 2010.
He said: "It does look as if it's trying to be humorous... but at the same time it's inappropriate to specify an age range, which is probably a breach of the Equality Act 2010."
Mr Clarke said his stipulated age range of 16-22 was "defensible", in order to groom a successor to older staff who were due to retire.