Low consultation turnout for Solent and Hampshire devolution plans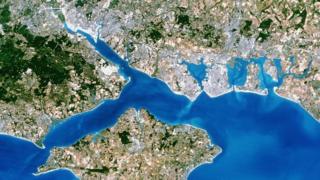 Fewer than 6,000 people responded to surveys about devolution in Hampshire which cost more than £160,000.
The Solent Deal proposes creating a combined authority above the unitary councils of Southampton, Portsmouth and the Isle of Wight.
A 10-week consultation, which cost £9,600, received 2,531 responses, with 1,000 people attending public events.
A £150,000 Hampshire County Council survey received 3,000 responses out of a population of 1.3m.
Donna Jones, leader of Portsmouth City Council admitted the response was "a relatively low number" but said it compared favourably with similar consultations elsewhere in the country.
"Unfortunately proposals for local governance arrangements aren't something it is easy to get the majority of people to engage with," she said.
The Solent Deal consultation, which ran for eight weeks, cost £9,600 with another £3,000 spent on a website.
'Super council'
Councillors at Southampton, Portsmouth and Isle of Wight have already approved draft plans to create a combined Solent authority that would see them leave the current system of government funding in exchange for keeping business rates of about £210m a year and securing £900m from government to spend on infrastructure over 30 years.
Under the plan, each council would continue as a separate entity and retain its existing powers but they would be equal members on a board led by an elected mayor.
Independent Southampton councillor Andrew Pope said the consultation was "a sham" and called for a referendum on the plans.
"The public are not aware of the issue of devolution. It's gobbledegook to them, it's not been properly explained but they need to have their say - just like they did with the European Union."
A second consultation was carried out by Hampshire County Council which proposes a "super council" for the county.
It cost about £150,000, including an Ipsos Mori phone survey of 1,500 people.
Leader Roy Perry said: "Democracy is never cheap - but if it leads to a situation where we could save £40m every year, it would be money well spent."