Southampton Port plans for increased car capacity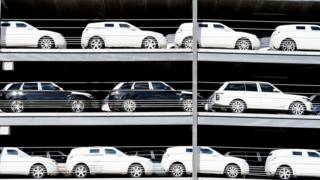 Plans to expand capacity for vehicle exports at Southampton docks have been unveiled.
The £50m proposals from owners ABP are split into two phases that will increase capacity at the port by 15,000 vehicles to 55,000.
More than 900,000 vehicles passed through the Port of Southampton last year, 520,000 of which were for export.
ABP said the plans were part of a UK-wide £1bn five-year investment programme.
The operator said the first £25m phase would deliver two vehicle handling facilities, capable of storing 7,600 vehicles en route from UK factories to global markets.
Two further facilities are planned for the second phase.
ABP chief executive James Cooper, said: "The port is a critical part of the supply chain for the British automotive industry, providing essential access to global markets.
"Our investment will build on this critical role and support our customers' drive to continue to grow their exports well into the future."