Family fights homes plan for Southwick Park estate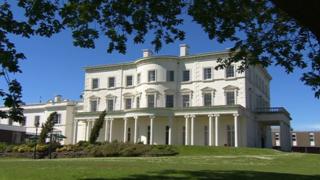 A Hampshire family is fighting to recover part of an estate which was requisitioned by the government during the Second World War.
Southwick Park, near Portsmouth, became the operations centre for the D-Day landings in 1944 and has remained in Ministry of Defence (MoD) hands since.
The government has announced plans to sell the park for housing.
But members of the Thistlethwayte family said the land should be offered back to them.
Mark Thistlethwayte said the property, including Southwick House where the D-Day invasion was approved, was commandeered in 1941 and was expected to be returned after the war.
But he said the family was forced to sell the property in 1950 for £40,000, a price which "woefully underestimated the value of the estate".
Mr Thistlethwayte said the government's Crichel Down rules meant that land "acquired under threat of compulsion... will normally be offered back to the former freeholder".
He said the price should reflect the fact that "a family home with parkland" had been turned into "a base with crumbling buildings".
But he said he feared the sale announcement on 6 September might be "part of a scheme to try and inflate the value of the parkland... based upon thousands of houses going there".
In a statement, the MoD said any offer for Southwick Park "would have to be based on market value".
A spokesman said: "The MoD recognises that Southwick Park is of great historical significance and we will work with any new owners to find a long-term sustainable solution for preserving the heritage associated with the site."
Southwick Park, which houses the Defence School of Policing and Guarding, is one of 13 sites which the government expects to provide 17,000 new homes.