Thefts from tents at Bestival increase by 41%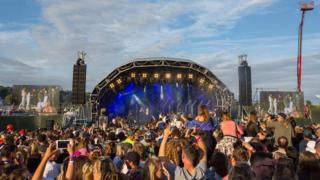 Reports of thefts from tents at the Bestival music festival increased by 41% on last year's event.
Hampshire Constabulary said that 106 thefts from the campsite were reported, compared to 75 in 2015.
The force claimed policing of the annual Isle of Wight event a success as there were no reported "serious crimes".
Most of the 40 arrests made were drug related and illegal substances with a street value of £175,000 were seized.
'Waste of the ticket'
Sophie Haffmann and her boyfriend Dominic Benham say they were robbed twice lost more than £600 worth of valuables when they were sleeping.
Mr Benham said: "We didn't want to leave our camp.
"We didn't really go out much during the day because we didn't feel it was safe to leave our stuff.
"We didn't really see many acts, so it was a waste of the ticket."
Supt Andy Houghton said: "The level of theft is below that reported in 2014 at Bestival and a large amount of property, which may have been stolen, has been recovered when we made five arrests on suspicion of theft offences."
The force added that on 8 September a Ford Transit van was stopped on a ferry in Fishbourne and 14,000 cannisters of nitrous oxide - laughing gas - was seized by police and two people were released on bail pending investigations.
Organisers of the festival said they would not comment further than the police statement.