New Forest EU business grants continue despite Brexit vote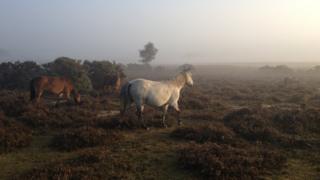 New Forest businesses are being urged to take advantage of an EU funding project despite June's referendum result.
The Leader scheme provides grants of £1.43m for farms and small businesses in and around the national park.
New Forest District Council promoted the funding as a "windfall" for the local economy.
The government said the existing scheme would be fully funded despite June's vote.
The council is distributing the grants through the 2015-20 Liaison Entre Actions de Développement de l'Économie Rurale (Leader) scheme - part of the EU's Rural Development Programme (RDP).
With the first round of outline applications due by Tuesday, the authority said its promotion of the scheme had been affected during the referendum campaign, when it could not be publicised by officials.
'The big question'
Anthony Climpson, head of employment and tourism said: "Without question, the Leader programme has been very important in stimulating starts up and we'd certainly lobby to ensure funding continues in the same vein."
"Clearly, if we're not in Europe, whether that money is replaced and what it is replaced with is the big question. Until we know, it's conjecture."
Clare Lee received a Leader grant to help move her Spice n Easy chutney-making business from her kitchen to an industrial unit in Lymington.
She said: "It was quite a small amount and a lot of work involved, but it was better than taking out a bank loan.
"It is important for small businesses. If it is withdrawn, it will have to have something in its place."
A Department for Environment, Food and Rural Affairs (Defra) spokesman said: All RDP projects, including Leader, signed or agreed before the Autumn Statement will be fully funded, even when these continue beyond the UK's departure from the EU."
"The Treasury will confirm future funding arrangements ahead of the Autumn Statement."
---
Leader in the New Forest
Launched in 2002, Leader is a French acronym which roughly translates as 'liaison among actors in rural economic development'
It is part of an overall £138m scheme funding projects throughout England
Offers one-off grants of between £2,500 and £50,000
The 2008-14 programme saw grants to 49 small local businesses and improvements to 29 village halls and shops
It created 23 new jobs and safeguard over 190
A high proportion of the grants were spent on local businesses, with each £1 of grant invested estimated as triggering a further £1.50 of private sector investment
---