Swimmer Scott Dawson completes round island challenge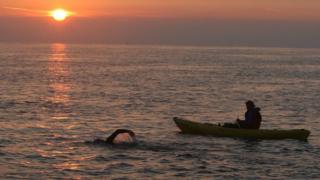 A man has completed his bid to swim solo round the Isle of Wight to raise money for charity.
Scott Dawson, 37, from Southampton, entered the water off Seaview shortly before 07:30 BST on Tuesday.
The non-stop swim saw him navigate the island anti-clockwise. He completed the 60-mile (96.6km) route in just over 26 hours.
Money raised will go to support the work of the Marine Conservation Society (MCS) and Meningitis Now.
During the swim Mr Dawson was passed boiled eggs, beetroot brownies and chocolate from a fishing net.
The father-of-two said he kept his mind occupied by doing sums in his head.
"Numbers go round and round, and before I know it, someone is stopping me to eat and drink", he said.
Record-breaking round-the-world yachtsman Brian Thompson navigated the route, describing it as an "epic challenge".
Only four people have completed the feat - the last successful attempt was by Anna Wardley in September 2013.