Unexploded ordnance found near Solent's Spitbank Fort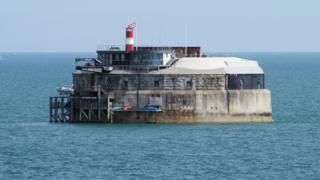 An unexploded ordnance has been found by a dredger near a fort in the Solent - but has been safely blown up.
The weapon was discovered close to the Victorian Spitbank Fort, also known as Spit Sands Fort, off Hampshire on Friday night.
An ordnance disposal unit surveyed the object before it was destroyed at 10:45 BST in a "secure storage area" nearby, a coastguard spokesman said.
It is not known exactly what type of device it was.
"We would urge any members of the public who come across a suspicious-looking object on the coastline to dial 999 and not to approach it," the spokesman added.
The former military fort was commissioned and built during the mid-1800s because of the threat of invasion by the French.
It is one of three such structures in the Solent that were used as a line of defence during World War One and World War Two.
They were decommissioned in the early 1960s and are now luxury hotels.