Farnborough airspace plan 'blight on countryside'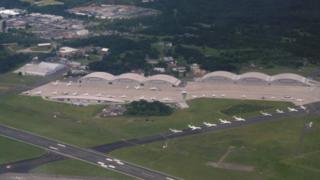 Revised plans to increase the airspace around Farnborough Airport have been branded "a blight on the countryside".
TAG Farnborough is consulting over changes to flight paths and increased flights from the business airport.
East Hampshire District Council leader Ferris Cowper said the proposals could affect tourism in the South Downs National Park and damage the economy.
TAG Farnborough said the plan would cut noise and CO2 emissions and reduce the number of people who were overflown.
The airport operator held a consultation on similar proposals in 2014 but they have since been changed to amend arrival routes from the south.
Mr Cowper said the area covered by the new consultation included Liphook in Hampshire, where flights would pass over between 5,000 and 4,000 feet away.
Milland, Midhurst and West Dean in West Sussex would also be affected.
He said: "Imagine sitting for a quiet lunch with friends in the garden of one of East Hampshire's beautiful rural pubs and having to stop mid-conversation while a flight goes overhead.
"That's not what I would want, and it's not what I think local residents want."
An airport spokeswoman said: "The proposed airspace design would offer all airspace users predictability and consistency of operations, leading to further reductions in noise and CO2 emissions.
"This could result in more precise and efficient inbound and outbound flight paths, leading to fewer flights at low altitudes as arriving aircraft will remain higher for longer and departing aircraft will climb higher more quickly as well as a net reduction in people overflown."
TAG Farnborough is to hold meetings in Midhurst on 1 and 20 September for people with questions about the proposals.
The consultation will run until 5 October and a decision is expected by early 2017.