Stolen Southampton zebra sculpture found in river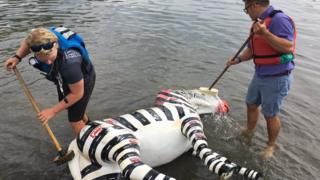 A life-sized zebra sculpture stolen from an art trail in Southampton has been found in a river.
The zebra, called "Ticket to Ride", is part of an exhibition by Marwell Wildlife. It was taken from Vincent Walk on 6 August.
The charity said it was found by children taking part in a sailing course on the River Itchen on Thursday.
It said the zebra was seriously damaged but was expected to be returned to the trail once repaired.
Instructor Sam Spencer from the city's water activity centre found the sculpture when he dropped the anchor into the water.
"I've found some unusual items in the river before, wellington boots, telephone cables, but in the 18 years I've been sailing I've never found anything as remarkable as this," he said.
Two of the zebra sculptures were vandalised, a day after being put in place on the Zany Zebra trail, which features 150 sculptures.
"Gilbert" - the charity's multi-coloured zebra - was stolen earlier this year and later found in a back garden in Shirley.
The sculptures are due to be auctioned in October to raise funds for the charity.