Gymnast completes year-long handstand challenge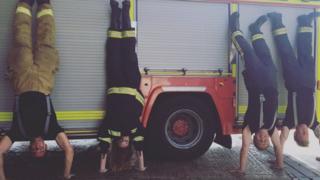 A gymnast has completed a charity challenge to hold a handstand every day for a year.
Justine Allingham, 24, from Portchester, Hampshire completed 366 handstands on Wednesday.
The challenge, held to raise money for The Fire Fighters Charity, saw her stand on her hands at sites around England.
She completed the challenge with a handstand at Fareham Fire Station joined by some of its firefighters.
The former martial artist has raised hundreds of pounds for the charity which helps serving and retired firefighters and their families from the challenge.
Pictures of her 366 handstands - including this year's leap year - were captured and shared on her social media feeds.