Council apology over Itchen Bridge toll card glitch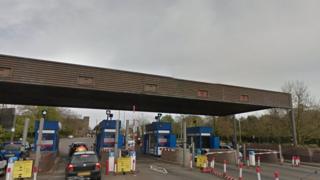 Some drivers using a pre-payment card for a toll bridge in Southampton have been having problems topping up due to a glitch with the payment system.
Southampton City Council said the issue with the quick top-up payment for the Itchen Bridge became apparent on Wednesday.
The authority said the system was currently accepting payments but these were not showing up on the cards.
It advised drivers to present their Smartcities cards as usual.
A spokesman said: "We apologise for any inconvenience or confusion.
"If you have any problems when using your Smartcities card, please press the help button at the toll booth and staff will be able to assist.
"Anyone who has used the quick top-up function while the system has not been working properly can be reassured that their account will be credited when it is up and running again."
The bridge links Woolston to Southampton city centre.
Online payments were introduced on the crossing in 2013 when automatic toll gates were brought in.
Drivers have to use cash bins which do not give change or pre-paid smart cards.
Fees vary from 50p to £25 depending on the size of vehicle and time of travel.