'Rising Muslim hate' sparks peace call at Alton gathering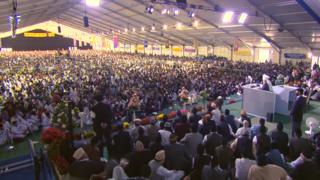 The largest Islamic gathering in the UK has opened with a call to end "hate incidents" among Muslims.
Around 30,000 Ahmadi Muslims from dozens of countries are holding an annual convention at Alton, Hampshire.
On Tuesday, Tanveer Ahmed, a Sunni Muslim, was jailed for life for the religiously-motivated murder of Ahmadi shop keeper Asad Shah in Glasgow.
Support group Tell MAMA said there had been "a rise in intra-Muslim hate incidents" since the murder in March.
Iman Abou-Atta, who is from the organisation which monitors attacks on Muslims, said: "It's from different sects of the Muslim community that perceive the Ahmadiyyas as non-Muslims."
In April it emerged leaflets calling for the killing of Ahmadis were found displayed in a London mosque.
Ahmadis differ from the majority of Muslims in that they believe the Prophet Muhammad was not the final Prophet.
The Ahmadiyya Muslim Community UK said it had long campaigned for an end to all kinds of tension between religions.
Vice-president Amir Muhammed Akram Ahmedi said: "Irrespective of any atrocities against us, our message will always be the same... love for all, hatred for none."
This year is the 50th anniversary of the three-day international gathering, known as the Jalsa Salana, which is now held at Oaklands Farm near Alton, Hampshire.
---
Who are the Ahmadi?
An Islamic sect founded in 1889, Ahmadis believe their own founder, Mirza Ghulam Ahmad, who died in 1908, was a prophet
This is anathema to most Muslims who believe the last prophet was Muhammad, who died in 632
Most Ahmadi followers live in the Indian subcontinent
Ahmadis have been the subject of sectarian attacks and persecution in Pakistan and elsewhere
In 1974 the Pakistani government declared the sect non-Muslim
---