Stand-off between residents and workers over 'bat habitat threat'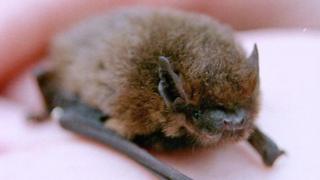 Plans to chop down two trees where bats are believed to roost have led to a stand-off between residents and workmen.
The dispute started at 07:30 BST in Botley, near Southampton, when people refused to allow contractors to fell the second of four oak trees.
It is part of work on a 1,400-home development at Boorley Green backed by Eastleigh Borough Council.
A spokesman said both trees were checked and no bat roosts were found.
But residents said they regularly see horseshoe and pipistrelle bats in the Maddoxford Lane trees and had been told they would not be cut down.
The Bat Conservation Trust said it is a crime to damage or destroy a roost, even if bats are not occupying it at the time.
Resident Anne Hendry said: "They have already cut down one tree which has a habitat of rare bats. The bats have colonised that tree for many, many years.
"They want to cut down a second one - but residents are on a rota to stand in the way to stop them."
An Eastleigh Borough Council spokesman said: "Independent ecologists are on site to supervise and manage the planned and approved works to remove the trees.
"Both the trees to be felled were fully checked using an endoscope survey that revealed there were no bat roosts in either trees."