Scout leaders' Swan pedalo Thames challenge under way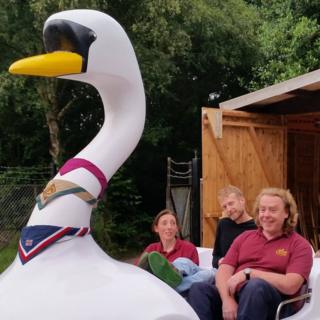 Three Scout leaders have begun a charity challenge to ride a swan pedalo the length of the River Thames.
Colin Dippie, 49, Jane-Louise Bassett, 47 and Ash Wilson, 38, set off from Fiddlers Island, north of Oxford, and hope to complete a 125 mile (200km) trip to the Isle of Dogs.
They are aiming to finish the journey within seven days and are raising money for epilepsy and guide dogs charities.
Despite early progress, the swan developed a leak near Oxford.
Ms Bassett earlier said they were making "fantastic progress" but later posted on Facebook they had to haul the craft onto the riverbank after it began taking on water near the city centre.
She insisted they would "continue and not be daunted" and they were able to get back on the water after the hole was repaired
Speaking before departure, Mr Dippie said they would be "pushing the limit" of the fibreglass swan.
He said the "mad" idea had been inspired by comedians Griff Rhys Jones, Dara O'Briain and Rory McGrath, who made a trip down the Thames in a skiff for a BBC TV series.
Mr Dippie said he managed to buy a new three-seat fibreglass swan off the internet.
It has since been named Pokeswan Go and fitted with navigation lights and an air horn.
They are aiming to complete about 20 miles (32km) each day and face 45 river locks.
Mr Dippie and Ms Bassett are Scout leaders in Bramshill, Hampshire while Mr Wilson leads a Fareham pack.
The trio are raising money for Young Epilepsy and Guide Dogs for the Blind. The swan will be sold off to boost funds after the trip is completed.