Hayling Island ferry revived after fundraising effort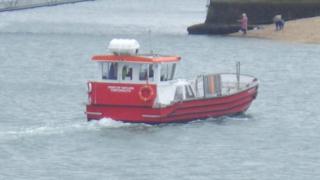 A 200-year-old ferry service that closed down in 2015 is set to be re-launched.
The only service linking Hayling Island to Portsmouth shut when the operator went into administration.
It left schoolchildren and commuters facing a 16-mile road journey instead of a three-minute ride to Eastney.
The Hayling Ferry Trust has so far raised more than £20,000 to support the new private operator in running sailings every 40 minutes.
The community trust, which received a £5,000 donation from Sir Richard Branson during its fundraising campaign, said it hoped the ferry would soon become self-financing.
Spokesman Clare Satchwell said: "It's back, people were desperate for it to be back, so hopefully they'll vote with their feet."
After going into administration, the service's previous owner was sold to Baker Trayte Marine Ltd but the new owner's plan to restore the service stalled when Hampshire County Council said it could no longer justify an annual subsidy. The service cost the authority £71,000 in 2014.
The new ferry, with a capacity of 64 passengers, will sail every 40 minutes from both Hayling and Eastney.
Dancer and choreographer Wayne Sleep, who has links with Hayling Island, will lead a launch celebration on Friday at the Ferryboat Inn.