Lifeboat mud rescue for Langstone Harbour stranded dog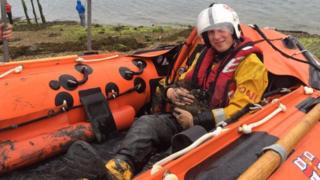 A terrier-like dog has been rescued by a lifeboat crew after getting trapped by a fast-rising tide on mudflats in Hampshire.
Walkers spotted the dog, named Mini Mouse, stuck on an isolated island in Langstone harbour on Monday afternoon.
RNLI crewman Joshua Bowe waded through mud to reach the stranded animal - being bitten as a thank you.
"Cold, shivering and covered in mud", Mini Mouse was given a shower and later reunited with her owners.
Missing since Sunday afternoon, the distressed Brussels Griffon was initially spotted about 100m (328ft) from marina pontoons.
'Bitten but undeterred'
RNLI Portsmouth was called when it was clear passers-by would not be able to reach it.
An RNLI spokesman said Mini Mouse faced "impending doom" as the tide was rising.
"On approach it was clear that the little dog was exhausted and struggling to stand on the far side of a small tidal island," he said.
"Up to his ankles, crewman Joshua Bowe waded across the thick mud, even falling to his knees to reach the distressed animal. Bitten but undeterred he was able to cradle the dog and bring her back to the safety of the lifeboat."