Concern at Forestry Commission 'hiking up' New Forest rents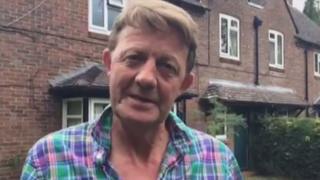 Increases in rents for forestry workers living in the New Forest in Hampshire could "totally change" the area, workers have claimed.
The Forestry Commission rents about 60 homes in the forest, with some rented to workers at below market rate.
Craftsman George Whitcher, said tenants had reported being asked to pay between £650 and £900, instead of £500 a month previously.
The Forestry Commission said it took a "reasonable approach" to rent reviews.
'Cutting throat'
Mr Whitcher, a Unite union representative in the New Forest, said there were concerns a rent review could make them unaffordable to forestry workers. They are currently at levels similar to council house rents.
The craftsman, who has lived with his family in a commission cottage near Fritham for more than 30 years, insisted workers needed to live locally to be able to deal quickly with problems.
"You can't keep forest life going if you can't stay in the forest. It would totally change - there would be no forest life."
Conservative New Forest East MP Dr Julian Lewis said the commission would be "cutting its own throat" if skilled woodsmen in the national park were "forced out of their cottages" by rent rises.
He said it undermined the "sense of security" that enabled people to "devote the whole of their working lives to the maintenance of the forest" despite being paid "not very large salaries".
'Reasonable approach'
The Forestry Commission said it took a "reasonable approach" to reviewing the rental cost of its properties.
New Forest deputy surveyor, Bruce Rothnie, said: "The Forestry Commission is not a social housing provider like a housing association.
"Rent reviews for all properties take place under the terms set out in the tenancy agreement and all reviews include discussions with the tenant."